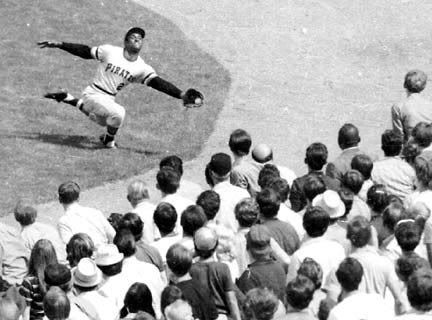 Clemente Catch at Shea from Presidential Medal of Freedom
Who's the greatest Bucco right fielder? Why Roberto Clemente, of course...maybe. Maybe not. But it's a very short list to choose from.
Clemente's stats are impeccable. In 18 seasons, he played in 2,433 games, all as a Pirate. He collected 3,000 hits, compiled a .317 lifetime average and won 4 batting titles. The Great One had a little more power than credited for, socking 240 homers even though he switched to a heavy bat early in his career to slow down his swing, while driving home 1,304 runs from the three spot in the order. His slugging average was .475.
His arm and range were unquestioned. Clemente won 12 golden gloves. Who can forget his whirling dervish bullet of a throw to third in the 1971 world series? (He threw out 266 runners in his career.) How many times did he catch a careless runner taking a wide turn by throwing behind him after a single or challenging a hitter that dogged it up the line after stroking a grounder into right? The runners weren't the only ones that had to stay on their toes. I remember one game when he drilled Dick Stuart, the Bucco first sacker better known as Dr. Strangeglove, square in the back with a throw when Stu turned towards the infield, thinking there was no possible play at first.
Roberto also was selected MVP in 1966 and had two world series rings (he was MVP of the 1971 series.) He was whisked into the Hall of Fame without the five year waiting period after that tragic New Year's Eve crash that claimed his life, the first Latin American player to enter Cooperstown.
Clemente was famous as a spokesman for Latino players and a humanitarian. He was also known as a hypochondriac by the press and a jake by some of his team mates because of his non stop griping about his physical condition. He had hurt his back in a 1955 car accident and had surgery on it years later after aggravating it in winter ball.
Still, with his persona, pizazz and production on the field, who could possibly compete with Arriba for the title of best right fielder in Pirate history? Just one guy.
That guy would be Paul "Big Poison" Waner. He had a 20 year career, 15 spent with the Pirates, and played in 2,549 games while wracking up 3,152 hits during the 1920-30s for a .333 lifetime average and 3 batting titles. Though more known as a speedster than a hammer, Waner had a .473 slugging average while driving in 1,309 runs, numbers almost identical to Clemente's. And like Clemente, he was considered one of the era's great baserunners.
Waner was no slouch in the field either. He threw out 241 runners that tested his arm, and was considered an outstanding outfielder. His fielding average of .975 is just a tad better than Clemente's .973.
Big Poison is also a Hall of Famer and was the 1927 MVP. But as a human, he was not quite up to Clemente's standards. Waner was renowned for playing with a hangover. (Casey Stengel said of Big Poison: "He had to be a very graceful player, because he could slide without breaking the bottle on his hip.") When the Pirates finally put him on the wagon in 1938, he responded by hitting a mere .280. It was only the second time in his 15 years as a Buc that he didn't hit .300 or better.
Waner was also near sighted. When he complained that he couldn't read the ads on the right field wall near the end of his Pittsburgh career, the Bucs fitted him with glasses. It was a short lived experiment. The ball that had floated up to the plate like a big fuzzy grapefruit suddenly looked like a tightly spinning BB to him, and he ditched the specs.
His brother Lloyd patrolled center field beside him, and they became Big and Little Poison. (Paul was Big Poison as the elder of the pair.) The nicknames, according to baseball lore, go back to a Brooklyn Dodger game at Ebbets Field, when a fan with a thick Flatbush accent said "Them Waners! It's always the little poison (person) on thoid (third) and the big poison (person) on foist (first)!" The Waner boys still hold the record for most hits by brothers, outdoing the Alou and DiMaggio siblings.
Roberto's #21 was retired by the Bucs, along with Waner's #11. And though they are two distinct personalities from two different eras, who's to say which one was the superior ballplayer?
Now there's a couple of guys just a tick behind them statistically and in tenure. One is Kiki Cuyler, who spent the first seven years of his Hall of Fame career in Pittsburgh before a feud with manager Donie Bush chased him to Chicago. Waner took his spot. The other is Dave "The Cobra" Parker, who has marginal HOF stats but whose 19 year career was beset by injuries, weight problems, and cocaine. But his batting stats are top notch, and he was a well above average fielder with a rocket arm. The Cobra was Arriba's successor in right field.
Brian Giles and Bobby Bo? Fuhgetaboutit!

Paul "Big Poison" Waner from Wikipedia