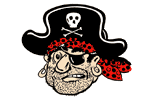 1960 Bucco logo from Baseball Almanac
Does this sound familiar? A new general manager takes over a Pirate team that's laughably incompetent on the field. He blows up the roster, builds up the minors, and promises that he'll produce a contender. But the team fails to produce and goes eight more years before it comes up a winner - for a different GM. The new guy dumps a couple of vets, makes a tweak or two and viola, a world championship a decade after the plan began.
No, it's not the story of today's Bucs. But it worked for us before, and maybe it'll work for us again.
In 1950, Branch Rickey was faced with a Pirate team even worse than our current version. He blew it up and home grew some ballplayers. But by 1955, his time had come and gone. The Pirates lost 100 or more games three times in five years (they called his teams the "Rickey-Dinks"), and Joe Brown took over the reins. But Rickey, the father of the farm system, didn't leave Brown with a bare cupboard.
Dick Groat, Bob Skinner, Bill Virdon, Bill Mazeroski and Roberto Clemente were already in place. The pitching was set at the top end with Bob Friend and Vernon Law. ElRoy Face was in the bullpen as baseball's first great closer, a Danny Murtaugh innovation (Murtaugh, in my mind, is a much underappreciated manager.) Brown added Dick Stuart and Rocky Nelson in the 1958 draft and picked up super sub Dick Schofield from the Cards for Gene Freese and Johnny O'Brien, one of our twin infielders. Ducky Schofield showed the wisdom of that move when he filled in for 1960 MVP Groat in September, when he broke his wrist after getting plunked by Lew Burdette. Schofield hit .333 in that span and played golden D, helping the Bucs pull away from the Milwaukee Braves and St. Louis Cards.
He made one big deal before the 1959 season, getting Don Hoak, Harvey Haddix and Smoky Burgess from the Redlegs for slugger Frank Thomas, Whammy Douglas, Jim Pendleton and Johnny Powers. He had the starting lineup now in place and a solid middle of the pack starter.
Brown added to his depth after the 1959 season by getting Gino Cimoli and Tom Cheney from the Cards for aging vet Ronnie Kline. His blockbuster was getting Hal Smith from KC for Dick Hall, a dependable starter, Ken Hamlin and Hank Foiles. He had his catching platoon set up and a talented if wild hurler in Cheney for the bottom of the pitching rotation (not much call for the fifth starter back in the day except for doubleheaders and injuries) and long relief. Rookie Joe Gibbon served as what passed for that era's set-up man.
And sometimes the best deal is the one you don't make. During the off season, the Bucs almost traded Dick Groat straight up for Roger Maris. But Murtaugh squelched the swap, and Groat went on to win the batting title and NL-MVP in 1960.
Brown only had to make one more move early in the 1960 season, getting Vinegar Bend Mizell from the Cards for Julian Javier, who was effectively blocked by Maz, and Ed Bauta (the Cards threw in Dick Gray, too) to replace Hall in the rotation. And we all know what happened in 1960. The rest, as they say, is history.
Now do we have a core of ballplayers in place like Brown did? Does Huntington have Brown's eye in making up a lineup and deciding the role players from the position players? Do we have an excess in one position or players blocking other younger guys to deal to fill needs? And is Russell another Murtaugh? Or are we closer to the stage when Rickey took over, a decade away from respectability? Time will tell the answers. But at least we can take some solace in knowing its' been done here before.