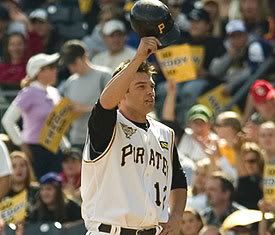 Freddy Sanchez from MLB
(photo by Dave Arrigo)
It's about time the Pirates did something worthwhile this offseason. I'm glad that Huntington hung on to his core players if the price wasn't right after suffering through the fire sales of Littlefield. And I'm more glad the middle of our infield is together. I don't believe in dealing away players without having someone ready to step into their spikes.
Jack Wilson is signed until 2009 with a team option for 2010, and now Freddy's inked the same way for the same span. And that's good news, because all we have on the farm is Brian Bixler, who by all published reports isn't ready for prime time yet. He didn't even get a September call up, which mystified me.
But a lot of what McClatchy and Littlefield did was beyond my comprehension. My reading of the tea leaves is that Huntington won't let a player go without a replacement somewhere on the horizon. Instead of blowing the team up, he's looking to strengthen it a piece at a time. At least my guess is that they don't intend to fill one hole by creating another. We'll find out soon enough.
Freddie's deal is this: $4 million in base pay this season, plus a $300,000 signing bonus. He'll make $6.1 million in 2009. In 2010, the Pirates can exercise a club option of $8 million and up to $500,000 in bonuses, or send him on his merry way with a $600,000 buyout to stick in his pocket on the way to free agency.
That option will be vested if Sanchez makes 635 plate appearances in 2009, or he has 600 plate appearances and lands a spot on the All Star team. And based on past experience, if he stays healthy in 2009, he'll meet the trigger. Freddy had 587 plate appearances in 2005 when he was glued to the bench before the Joker, Joe Randa, went down. He collected 625 appearances in 2006 and 645 last year. Sanchez has also been an All-Star the past two seasons. If Russell continues to use him in the two-three hole, he should be able to reach the targets.
$18.9M over three years seems to be a reasonable wage. These new front office guys seem to have a finger on a player's value. The baseball rags I read thought he was worth $15-20M over three years, with most somewhere in the $18M range. It seems both sides are getting a fair shake on the contract.
Freddy earned $2.75M last year, and with his new contract, he's guaranteed another $10.4M for the next two seasons, so that's $13M+ over three arbitration years. Not A-Rod money, but not too bad.
I was one that was squeamish about his move to second last year, and the first few weeks at the position only deepened my suspicions after he missed spring camp with a bum knee and looked out of place there early on. But he came around and finished the year as Steady Freddy at second, not showing great range but snagging everything he could reach.
Freddy's shaky pivot work improved during the course of the season, and hopefully a 100% knee and shoulder will improve it more. His fielding range stat was a tick above the league average, and that's OK. A couple of bouncers will elude him, and a couple more will drop into short right. But all the other balls are outs, and that's a big advantage over the up and down Castillo. Sanchez only booted nine balls last season.
And while he's not a slugger, he's hit .294, .344, and .304 in the past three years (.310 career) and won a batting crown while averaging 83 RBI over the past two seasons. That's a sweet bat for a second baseman.
Second base has been a swinging gate for us this decade. We had Warren Morris in 2000, Pat Meares and Abraham Nunez in 2001, Pokey Reese in 2002, Jeff Reboulet and Nunez in 2003, and then the Castillo years. It'll be good to have some stability up the middle, especially with question marks in center and behind the plate and a starting pitching staff that gives up a ton of ground balls when they're on their game.
I'm happy to see a good guy and a good ballplayer be rewarded for staying the course, especially one that seems genuinely pleased to be in Pittsburgh. Do you remember the raucous ovation Freddy got during the All-Star game introductions at PNC Park in 2006? I think Pittsburgh fans are genuinely pleased to have him here, too.