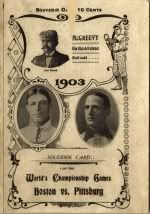 1903 World Series program from BR Bullpen
Barney Dreyfuss must give Kevin McClatchy nightmares. The turn of the century Buc owner took a team that had finished fewer than 12 games out of first only once in their professional life and turned them into immediate pennant contenders with just one deal. He's now in the HOF for his many contributions to early baseball, but the move he pulled off in 1899 should have guaranteed him a bronze plaque in Cooperstown by itself. It was simply the greatest trade ever made.
In 1899, Dreyfuss owned the Louisville Colonels of the National League. They had a lackluster year, finishing ninth with a 75-77 record though they had some serious talent on the squad. But the NL, hurting financially, decided to contract the league from a dozen teams to eight, and Louisville was told not to let the door hit it in the butt. Dreyfuss' options were to sell or trade his roster. Otherwise the league would assign the players for him.
Dreyfuss was ambitious and had no intentions of leaving the National League, the 800 pound gorilla of professional baseball. So he worked out a little deal with the Pirates. He sent them a dozen players for Jack Chesbro, a HOF pitcher, and three other guys who would be out of baseball in 1900. He then sold off the rest of the players, building himself a tidy little nest egg.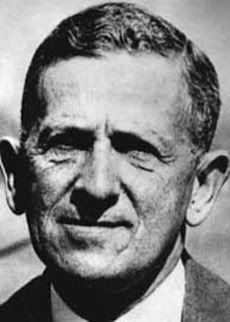 Barney Dreyfuss from Jewish Sports
He used his newly acquired cash to buy a piece of the Pirates, making sure to assign Chesbro back to the Bucs. Of the dozen players he sent to his new team, two were cut, two were sold, and another served as a back up catcher for awhile.
The other seven all became Pirate regulars. 3B Tommy Leach, C Chief Zimmer, 2B Claude Ritchey and P Deacon Phillippe were proven veteran players. Phillippe, in fact, had career stats equal to Waddell and Chesbro, and won three World Series games in 1903. The other three - P Rube Waddell, OF Fred Clarke and SS Honus Wagner - would all be elected to the HOF. P Chesbro, who Dreyfuss returned to Pittsburgh, was also voted into the Hall.
The Pirates came in second in 1900, and for the following three seasons, they completely dominated the National League. They played in the first modern World Series in 1903, losing to the Boston Pilgrims with an injury depleted squad. With largely the same core of players, the Pirates would continue to be a contending team over the next decade, and took their first World Series title in 1909, winning 110 regular season games before defeating Ty Cobb and the Detroit Tigers.
Pittsburgh was finally on the baseball map, thanks to Barney Dreyfuss. He built a franchise singlehandedly by trading his players to himself. (And you wonder why the Player's Association always harps about ownership collusion!) Those players started the Pirates on a roll of 12 consecutive winning seasons, four pennants, and two World Series appearances.
I challenge anyone to find a trade that netted a team two front of the rotation pitchers, five position starters and three HOF'ers for a player it got back a few weeks later at no cost. It has to be the greatest deal the Pirates ever made.
Many thanks to my bud, Pirate die hard and all around good dude Tom DiNuno, for suggesting this post.