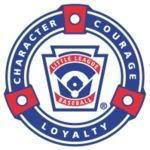 Little League Logo from Wikipedia
It's getting near time to celebrate the most American of festivities, baseball's opening day. And while for some that means taking a seat overlooking a field of manicured green with 35,000 or more fans, here in Greenfield it means standing on a corner and watching the Little League parade troop down the avenue.
The mini Bucs, Cubs, Mets, Phils and all, uniforms bright and clean (for the only time during the year!), stiff new gloves firmly stuck on their hands and metal bats slung over their shoulders, will march to Magee Field and start the season.
They'll be led by an assortment of parents and some long time managers like Jimmy Gregg who started coaching a team while he was in high school. He's retired now.
Events like that will happen all over the city, in Hazelwood, Lincoln Place, Squirrel Hill, Brookline, Beechview, Mt. Washington, Carrick, North Side, South Side, West End, Sheraden, the Hill, and all the 'burbs too, from Swissvale to Ross, from Homestead to Moon. That's the tradition that makes baseball the great sport it is.
PNC Park can shoot off all the fireworks and give away all the bobbleheads it wants. If it wasn't for a dad playing catch in the yard or pitching a wiffleball to his kid to drill into the gutter, Jason Bay and the gang would play to an empty house.
And you know what? Quite often a Saturday spent in the lawn chair watching the rug rats play ball at Bud Hammer Field will yield as many memorable moments as a box seat for the Yankee series will (the price of entry, a 50-50 chance, is a heckuva lot cheaper, too!)
I remember watching a 12 year old tournament game at Hammer Field in July, a dozen or more years ago. Greenfield was playing Dormont, a monster team of the time, in a best of three match up for the title. The home town GF'ers were already a game down to the Potomac Avenue powerhouse.
But the local nine held a slim one run lead as Dormont came up in the sixth inning for it's final at bats. They quickly put runners on first and second and looked like they were getting ready to sweep the home boys. The next batter sent a soft liner just over second, and the runners were off to the races.
Young Alan McTighe in center field got on his horse, reached out on the dead sprint, and snagged the ball in his web. As the coaches frantically waved their charges back to their base, he tossed the ball to third in the direction of Dormont's lead runner.
A surprised Johnny Rosato, who went on to play football at Duquesne, grabbed the throw, then ran down and tagged Dormont's runner. He spun and bounced a two hopper to first, where Rocky Ieraci - he played some baseball and football at Central Catholic HS - stretched his bulky frame for all it was worth.
The ball settled in his mitt a split second before the retreating runner slid back in. Their first base coach shook his head, shrugged his shoulders and walked back to the dugout. A triple play had sent Dormont to defeat.
You think good stuff only happens in the bigs? That was a play some guys in the majors have never made.
Dormont went on to win the rubber match, another well played game decided when their center fielder hauled in a ball that was over the fence, with his back to the plate ala Willie Mays.
Some fans swear the ball actually bounded off of a spectator leaning against the fence and into his glove, but hey, a nice grab is a nice grab. No one reversed the Sid Bream safe call in 1992 NLCS either, hehe. Even little league can't escape some controversy now and then.
So one nice summer evening or weekend when you have the itch to catch a game and can't get to PNC, take a short hop to your neighborhood ballyard. Sometimes the kids are amazing. You may just spot one that will play for pay one day. And the price of the popstand hot dogs is a lot easier on the wallet than a stadium frank, and they taste even better.