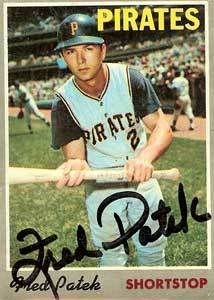 Freddie Patek from Baseball Almanac
At 5'5" (and we're being generous) shortstop Freddie Patek was the shortest player of his era. His stature earned him monikers like Little Freddie, The Flea, Mighty Mite, Moochie, and the Cricket, all of which he disliked. OK, despised. It didn't help that his voice was sorta squeaky to boot, making Munchin comparisons inevitable.
Though he hated his cutesy nicknames, he lived with them. When asked by a reporter what it felt like to be the smallest player in the Major Leagues, Patek replied "I'd rather be the shortest player in the majors than the tallest player in the minors."
And he had quite a nice little career in MLB. The Texan played 14 seasons for the Pirates (1968-1970), KC Royals (1971-1979), and California Angels (1980-1981). Patek was a three time All-Star pick and led the league in stolen bases in 1977 (53). He also played in 4 LCS, batting .288.
Patek made his major league debut in 1968 with the Pirates, which had drafted him in 1965. But he didn't made a name for himself until he was traded after the 1970 season with Bruce Dal Canton and Jerry May to the Kansas City Royals for Bob Johnson, Jackie Hernandez, and Jim Campanis.
Patek was given a chance to win the Pirate SS job in 1969, but responded with a lowly .239 batting average and spent the next year as a sub. He was glad the deal was struck, even though he was leaving a pennant winning team.
"If I had been with Pittsburgh another year or so, I probably would have been out," Patek told MLB.com. "They were trying to get me to be a utility player. The trade came at a perfect time because the Royals were just a couple of years in as an expansion club and they gave me the opportunity to play every day. God put me in the right place at the right time."
He possessed the range and arm to be an outstanding shortstop in the field. His laser beam darts from the SS hole were timed at 95 MPH. Patek was particularly adept at turning double plays, noted for his patented bare-hand turn and throw.
Manager Whitey Herzog called Patek the best "carpet" shortstop he ever managed, ranking him even higher than Ozzie Smith.
His speed and aggressive baserunning were his offensive calling cards, and he led the AL in triples one year and stolen bases another. Patek did have a couple of shining moments with the lumber despite his light hitting rep.
He hit for the cycle at Minnesota on July 9, 1971, in his first year with the Royals. Not much of a power hitter, Patek nevertheless became the second shortstop, after Ernie "Bingo" Banks, to hit three home runs in a single game on June 20, 1980 while playing for the California Angels.
One knock on Patek was that his teams never got to the World Series. The Pirates won the season after Patek left in 1971, and the Royals went to the 1980 World Series the season after he departed, though eventually losing.
The shortstops on those Series teams, it should be noted in all fairness, were Jackie Hernandez and U.L. Washington, so it seems more like a case of bad timing (or karma, maybe) on Patek's part rather than bad playing. And he did bat over 45 points better than his lifetime average in the playoffs, so he hit in the clutch.
Patek retired after the 1981 season with a career batting average of .242, 736 runs scored and 385 stolen bases. Baseball analyst Bill James rated him, a member of the Kansas City Royals Hall of Fame, the 14th best player in Royals' history.
After being released by the Angels in 1981, Patek had a variety of jobs in and out of baseball. He was a baseball commentator and worked in the Ranger and Brewer organizations. He has also been in the restaurant and roofing business.
These days, Patek is a doting grandfather, living in Kansas City, his home for the past 3 decades. His oldest daughter, Heather, has two daughters. "I really enjoy being a fulltime grandpa," Patek said. "I tell people it's the best job I ever had. There's no pay, but the benefits are awesome."