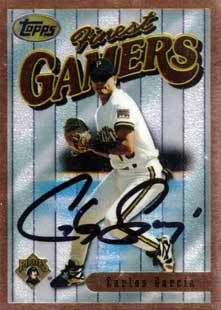 Carlos "El Capitan" Garcia from Baseball Almanac
After playing seven seasons for the Pirates and then building a coaching resume, Carlos Garcia has returned to Pittsburgh. He was named the team's infield coordinator, taking the place of Tony Beasley when he became John Russell's third base coach.
Carlos Jesús García Guerrero was born October 15, 1967 in Táchira State, Venezuela. He now lives in Depew, NY, with his wife Cathy and three children, Isabel, Carlos Jr., and Emanuel.
He was a natural athlete as a youth, and the locals called him "El Capitán." Garcia graduated from Bolivar High School and was signed as a 19 year old by the Pirates. He wore lucky #13 with Pittsburgh and Toronto as a tribute to Red's shortstop Dave Concepcion, a brother Venezuelan.
García was treading water at the Pirates' AAA Buffalo farm team, waiting for his chance to get into the show. An outstanding shortstop prospect with great range and a strong arm, he was pushing to play for the big club. García had his breakout season at Buffalo in 1992, batting .303, with 13 HRs and 70 RBIs.
Garcia was 22 years old when he broke into the big leagues on September 20, 1990, with the Pirates, but was just an annual cup of coffee call up until 1993 when they traded José Lind. With Jay Bell being an immovable object at shortstop, García was given the opportunity to play second base and took full advantage of it.
He played 141 games with the Pirates in 1993 while hitting .269. His first MLB homer came on April 16, an inside-the-park job off Orel Hershiser in Dodger Stadium. Garcia turned a triple play along with Jay Bell and Kevin Young against the St. Louis Cardinals on August 10.
Next season, Garcia led the Pirates in batting average at .277 and was named to the All-Star Team. His season highlight was when he broke up a no-hitter against the Expo's Jeff Fassero on June 13.
He had career highs in average and RBIs in 1995, hitting .294 and driving in 50 runs. Garcia also had a personal high 21 game hitting streak from June 5-27. He followed that by batting .285 in 1996.
Garcia connected for the 8,000th home run in Pirate's history on April 13 off Jeff Fassero, one of only a half dozen he hit that year. Fassero had to be wondering what Garcia had against him.
It would be the last season for him as a player in Pittsburgh. On November 14, 1996, he was traded with Orlando Merced and Dan Plesac to the Toronto Blue Jays for Jose Silva, Brandon Cromer, Jose Pett, Mike Halperin, Abraham Nunez, and Craig Wilson.
The Pirates were well into the era of unloading anybody making more than minimum wage. Hopefully, we've finally gotten out of that mode, but we'll see what the future brings before we hold our breath on that.
In fairness to Pittsburgh, the Jays only kept Garcia a year as he hit just .220, and he spent the last two seasons of his career as a depth chart player traveling back and forth from the minors for Anaheim and San Diego.
In 10 years in the big leagues, covering 610 games, García hit .266 with 73 HRs, 197 RBIs, and 274 runs scored with an All Star appearance and a single at-bat in the 1992 NLCS.
He became a player coach for Cleveland's AAA Buffalo squad in 2002, and spent the two years after that as the hitting and infield coach for the Indian farm team, rubbing shoulders with current Buc GM Neal Huntington.
He went to Seattle to coach third base in 2005 and stayed there three years before Pittsburgh hired him. (Pittsburgh seems to have a thing for former third base coaches.)
His work with Seattle's infield hadn't gone unnoticed. They led the league in fielding in 2005 under his tutelage.
"The more people talked about Garcia, the more people raved about him," Kyle Stark, the Pirates' director of player development told MLB.com. "We knew he had a place here in the organization. It just took some time to find that place here." And when Beasley's job opened up, that place was found.
What's he bring to the Pirates? First, he's another link in the chain of former Bucs being forged by the new management. They seem like they want to restore a sense of Pirate tradition to the team, something that Dave Littlefield didn't foster.
Garcia's young (he's just 40.) He's Latino, and Pittsburgh needs to rebuild that pipeline. He was a good stick (he hit .278 as a Pirate) and good glove, and has been teaching those arts for the past 6 years with pretty sweet success.
El Capitan is back, and he'll try to show the baby Buccos the long road to the promised land.