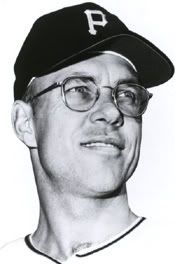 Bill Virdon from Drury University
Bill Virdon was born in Hazel Park, Michigan in 1931 and grew up in West Plains, Missouri.
He was a top notch man with a glove and a solid batsman during his playing days as a center fielder for the St. Louis Cardinals and Pittsburgh Pirates. Virdon also had a long career in the majors as a manager with the Pirates, New York Yankees, Houston Astros, and Montreal Expos.
Virdon played basketball at Drury University, ala Dick Groat and Duke, in Springfield, Missouri before embarking on a major league baseball career. In 1950, at the age of 18, he signed with the New York Yankees but was traded in a multi player deal four years later to the St. Louis Cardinals for Enos Slaughter, now a member of the Baseball Hall of Fame.
After another year in the minors, Virdon joined the Cardinals in 1955 and was named National League Rookie of the Year, hitting .281 with career highs of 17 home runs and 68 RBI.
But when Virdon got off to a slow start in 1956, St. Louis GM Frank Lane, popularly known as "The Trader," sent him to the Pirates on May 17 for Bobby Del Greco and Dick Littlefield just 24 games into the season. It was his - and the Pirates - luck that the Card farm system had a kid named Curt Flood rising meteorically in it, and he would become their CF'er in 1958.
As an aside, that 1956 Card team was home to quite a few parts of the championship 1960 Pirate squad. Over the next few years Virdon would be joined by old teammates Hal Smith, Rocky Nelson, Dick "Ducky" Schofield, Vinegar Bend Mizell, and Harvey "The Kitten" Haddix. Joe Brown made made good use of St. Louis' roster when he remade the Bucs.
Virdon finished the year with a career-high .319 average and was a fixture in center for the Pirates through 1965. Because of his long, lanky appearance and grace in the outfield, he was dubbed "The Quail" by Pirate broadcaster Bob Prince.
In the 1960 World Series, Virdon was a key figure in three of the four Pirates' victories.
He made dazzling catches on balls hit by Yogi Berra in the opener and Bob Cerv in Game 4, and he bounced the grounder in Game 7 that smacked Yankee shortstop Tony Kubek in the throat and sparked Pittsburgh's legendary roller coaster victory. And all this time you thought it was Maz's home run that did it!
He won his only Gold Glove in 1962. #18 had a reputation as a swift and dependable center fielder , but some guy named Willie Mays kept taking home those Gold Gloves. Go figure.
A left-handed batter who threw righty, Virdon's MLB batting average was .267 with 91 home runs, 735 runs scored, and 502 RBIs during his 12 year, 1,583-game NL career. He has a Gold Glove and World Series trophy sitting on his mantel, too. Then he started his second career.
Virdon coached in Pittsburgh under Danny Murtaugh before eventually replacing him in 1972. He led the Pirates to the division championship that year but lost to Cincinnati in the NLCS when Dave Guisti gave up a homer and then Bob Moose uncorked a wild pitch in the final inning of Game 5, allowing the winning run to jog home.
He lost his Bucco gig late in 1973 after butting heads with Dock Ellis and Richie Hebner, a pair that a full house couldn't beat.
He landed on his feet quickly, though. Virdon was George Steinbrenner's second choice for Yankee manager in 1974 when Dick Williams was unable to take the job. Virdon was able.
He brought the club in second and won
The Sporting News
Manager of the Year honors. But that didn't cut any bait with Boss Steinbrenner. Virdon was canned for Billy Martin on August 1, 1975. Talk about temperamental opposites!
Two weeks later Houston hired him. In six full seasons with the Astros, Virdon only finished lower than third once. He took the team to the playoffs in 1980 and was again named
TSN
Manager of the Year. He came within an inning of the World Series once more, losing the NLCS to the Phillies in the tenth inning of Game 5. His playoff career was getting to be like the movie
Groundhog Day
.
Virdon finished his managing days with a two year run in Montreal in 1983-84.
His lifetime managerial record over 14 seasons was 995-921. Virdon won three division titles (his Astros lost in 1981 to LA), though he never quite made it to the World Series as a manager. He also served three different stints as a Pirate coach.
Virdon has the rare distinction of being replaced twice by the same manager that he replaced. In Montreal he played revolving doors with Jim Fanning and in Pittsburgh it was with his mentor, the "Smiling Irishman" Danny Murtaugh. On the sunny side of the street, he was one of the few men to be selected Manager of the Year in both the NL & AL.
Bill Virdon was honored by a Lifetime Achievement Award from his alma mater, Drury University. He was also inducted into the Springfield Sports Hall of Fame in its inaugural class of 1987.
Currently Virdon lives in Springfield, Missouri, and serves as a special outfield instructor for the Pirates during spring training.
He still looks like a professor with his wire rims and trim build, and in baseball lore he is one. Virdon believed in playing the game right and sticking to the fundamentals. If he can pass that lesson on to his young Bucco charges, half the battle will be won.
(Our contribution to spring training will be highlighting the careers of the old Bucs in camp who are trying to pass on the torch to today's squad. Up next - the Roadrunner.)