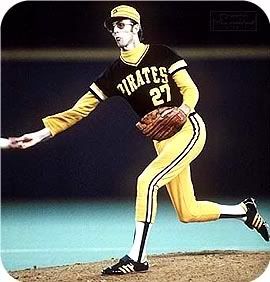 Teke Tekulve from Mop Up Duty
Kenton Charles "Teke" Tekulve was born March 5, 1947 in Cincinnati, Ohio. He pitched for Marietta College and the Pirates drafted him when he graduated in 1969.
The Rubber Band Man worked exclusively out of the bullpen from 1974 to 1989 for the Pittsburgh Pirates, Philadelphia Phillies and Cincinnati Reds.
He looked like a soft breeze could blow him off the mound, but in reality he was a workhorse and led the major leagues in appearances four times. Tekulve pitched in 90 or more games three times. He and Mike Marshall are the only pitchers in baseball history to appear in 90 games more than once.
He holds the National League record for career innings pitched in relief (1,436-2/3), and held the major league record for career relief appearances until Jesse Orosco broke his record in 1999. Teke's 1,050 career games ranked second in MLB history to Hoyt Wilhelm's 1,070 appearances. He's now seventh on the all-time list of wins in relief with 94.
Tekulve was one of the great sidewinders, and threw a sinker, slider and a slow curve that he used as a changeup, from every angle he could contort his lanky frame into. With those shades, windmill gyrations, and 6'4", 180 pound frame, he often looked like Ichabod Crane being pursued by the Headless Horseman. But could he ever whip a baseball.
He went 10-1 as a set-up man for Goose Gossage in 1977, and took over as the Pirates' closer after Gossage signed with the Yankees in November. Teke was the man for the job, as different as night and day from the Goose but every bit as effective. Tekulve set a club record for saves with 31 in 1978, compiling an 8-7 slate with a 2.33 ERA. He led the National League in appearances in with 91.
His best season arguably came in 1979 (some say it was 1978) when he pitched in 94 games, posting a 10-8 record with 31 saves, a 2.75 ERA, and a league-leading 94 appearances. The year was topped off by his 3 saves in the World Series, striking out 10 Orioles in 9-1/3 innings. The 3 saves were a Series record until John Wetteland closed out 4 games in 1996.
Teke led the National League with 85 appearances and 12 relief wins in 1982. In 1983, he saved 18 games with a dazzling 1.64 ERA. His Bucco era was drawing to a close, and he was traded by the Pirates to the Philadelphia Phillies for for Al Holland and Frankie Griffin in April, 1985.
In 1986 he broke Roy Face's NL record of 846 career games, pitching as a set-up man. Tekulve held the mark until John Franco passed him in 2004. Teke once again led the NL in appearances with 90 in 1987 while pitching for the Phillies at the age of 40. Tekulve also broke the MLB record for the most appearances as a pitcher without making a start when he topped Sparky Lyle's mark that same year.
Let go by the Phils after 1988, he signed with the Reds. Midway through the season, with the Reds near the bottom of the standings, he retired rather than hang on in the hope of topping Wilhelm's record for total appearances. He ended his career 20 games shy of the mark.
In 16 years in the bigs, Tekulve had a 94-90 record with 184 saves and a 2.85 ERA. He was an All-Star in 1980, won a World Series, and is second in Pittsburgh's all-time history in saves, appearances and relief innings pitched to ElRoy Face. Teke holds the Bucco record for most games finished in a year with 67 and is tied with Solomon Torres with most appearances in a season with 94.
In 1990 he worked for the Pirates community relations office and then was a Phillies broadcaster from 1992 to 1997. After a couple of years as a coach and director of baseball operations for the independent Frontier League Washington Wild Things, Tekulve took a job as the Buc's advance scout in 2006 - allegedly the first full-timer the team ever hired. He's also the director of the fantasy camp and a Pirate caravan regular.
In the spring, he puts down his computer and video cam and works as a special instructor for the Pirates. He's a bit pudgier than he was in his playing days, but don't let that fool you.
If he can get the pitchers in camp to want the ball as badly as he did and throw strikes when they get it like he did, the Bucs won't need his scouting reports. The Rubber Band Man will have done his job.
(Our contribution to spring training will be highlighting the careers of the old Bucs in camp who are trying to pass on the torch to today's squad. Up next - the Quail.)