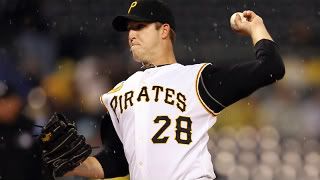 Management finally bit the bullet and let the team know that guaranteed money doesn't mean you have a guaranteed job. It's a sea change from the McClatchy/Littlefield era, and the Pirates took it to heart.
Paul Maholm pitched masterfully, throwing a two hit, 99 pitch complete game against the Phils. His record evened at 2-2 and his ERA dropped to 3.26. Everyone chipped in today.
Xavier Nady made a nice diving catch, Jose Bautista speared a shot at third, and Jay Bay ran down a ball in left center with ease, making a play that he couldn't have last year on his gimpy wheels. Not a misplay was made in the field. Luis Rivas even turned a pair of double plays.
Nate McLouth hit a pair of homers and drove in three runs, while Bautista was let out of the doghouse and came through with a three-hit day. Rivas, Bay, and Adam LaRoche kicked in a pair of hits. The Pirates even scored first.
Today's performance may just be the result of a long overdue strong start. But we wonder how much of a weight the Morris saga had become in the clubhouse. The team seemed lifeless in the field for him last night but clicking on all cylinders today.
It's not to say Matty Mo wasn't a popular figure among the Bucs - he was. But it's hard to take the field when you know that you're going to be behind the eight ball and in a hurry.
Maybe now they feel like the front office will do their part in turning the team around, at long last. As we said, it could just be the hidden vigorish, as the Gunner used to say. But maybe it was an attitude adjustment, too.
We can only hope.
On the Pirate front:
The news concerning Freddie Sanchez' shoulder has all been positive of late. The theory is that the warm weather has finally loosened it up, and Sanchez is beginning to throw better, with much less pain. Now about that .216 average...
Xavier Nady's 14 game hit streak ended today. He was out about every way you could be, lining out to left, flying out to right, bouncing out to second, and striking out. The X Man is hitting .327 with 4 HRs and 23 RBIs, a pretty fair start to the year.
Paul Meyer of the
Post Gazette
noted that Nate McLouth's second home run yesterday (they were both off Brett Myers) was the 500th hit by a Pirates player at PNC Park. John Vander Wal hit the first by a Buc on April 11, 2001, off Cincinnati's Elmer Dessens.