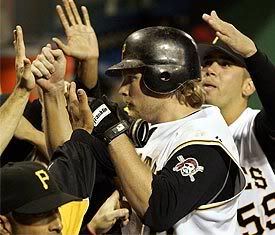 Craig Wilson from Pittsburgh Pirates.com
(Gene Puskar, AP, photo credit)
The Bucs have been busy the past couple of days:
On the player front:
Craig Wilson is back. The Pirates signed the 31 year old 1B/OF to a one-year, minor-league contract with Class AAA Indianapolis yesterday. If he makes it back to the show, Wilson gets $500,000 in salary with another $500,000 on the table, depending on the number of at bats he gets.
He'll play first at Indy, which was trying to get by with Adam Boeze when Steve Pearce was plopped in the outfield. Wilson gives them an insurance policy there. He's far from a prospect, but the Bucs are betting that he's still a major league role player.
His long, strange journey started when was traded by the Pirates to the Yankees in July 2006 for Shawn Chacon. They released him after the season, just as Pittsburgh did to Chacon after 2007. So we won on that deal - two years of Chacon and Wilson returns. It may be Littlefield's best trade, hehe.
In 2007, after flopping with the Atlanta Braves, Wilson had a 'scope done on his arthritic right shoulder in June. A month later, he signed with the White Sox and batted .180 in a short stint at its' AAA affiliate, Charlotte.
He signed a minor-league contract with Cincinnati this year, but the Reds cut him on the opening day of spring training after Wilson failed his physical. Now he's almost back full circle. Talks to bring Wilson back have been going on since March, and the Pirate brass finally got him to sign for what they consider to be value.
For his career, Wilson is batting .262 with 99 HR's and 292 RBI's in seven seasons.
The Pirate's also re-signed 29 year old LH reliever Juan Perez to a minor-league contract after releasing him in spring training. He has a torn ligament in his elbow and may or may not need surgery. This move was just to restructure his contract after he was dropped from the 40 man roster after the injury.
Stopping in Pittsburgh for a coupla cups of coffee, Perez has worked 15-2/3 innings, giving up 19 hits, 9 walks, and striking out 13 with an ERA of 5.17. Perez pitched OK last year after being roughed up in his first appearance, but wasn't going to break camp with the team even before he was hurt.

On the minor league front:
The Indianapolis Indians have signed a four-year extension with the Pirates. The new agreement will run through the 2012 campaign. The Pirate's affiliation, which began in 2005, has been a success so far.
Pittsburgh's 2008 opening day roster included 11 former Indianapolis Indians - Matt Capps, Zach Duke, Tom Gorzelanny, Paul Maholm, Franquelis Osoria, Ian Snell, Ryan Doumit, Ronny Paulino, Jose Bautista, Nate McLouth and Nyjer Morgan.
The Indians hosted 586,785 fans at Victory Field last year, averaging 8,383 per game. And the field is supposed to be top notch, so it sounds like a good deal all around.
The players? It's really way too early to tell, but the Big Three aren't exactly on fire yet. RF Steve Pearce (.240), CF Andrew McCutchen (.208), and 3B Neil Walker (.118) haven't swung the bat worth a green weenie so far. Sean Burnett? Three innings, three strikeouts, two walks, no hits.
On the "He Talks Too Much" front:
White Sox manager Ozzie Guillen told the
Detroit Free Press
over the weekend that Roberto Clemente was not Puerto Rico's greatest ballplayer. That would be Ivan Rodriguez, followed by Roberto Alomar.
I-Rod gets his nod because Guillen thinks catcher is a more difficult position, and he gave Pudge extra credit for catching in the Texas sun (what, they don't have night games there?) Whatever would make a guy from Venezuela stick his tongue out at Puerto Rico's national icon?