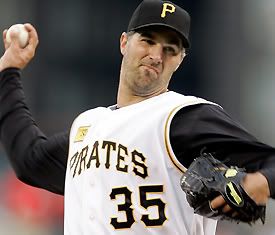 Matty Mo from Pittsburgh Pirates.com
(photo by Gene Puskar, AP)
A bit of breaking news: Matty Mo was released, Phil Dumatrait, 26, will take his spot in the rotation and John Van Benschoten was called up from AAA Indy for bullpen duty.
The story as written by George Von Benko of MLB.com:
Morris plans to return to his home in Jupiter, Fla., and indicated that his career is over.

"Once you mentally turn it off, it's hard to turn it back on," Morris said. "When you lose your edge competing and the confidence is down, it would be hard to pitch again."

Morris pitched for 11 years in the Majors, with stops in St. Louis, San Francisco and Pittsburgh. A two-time National League All-Star, he has a career record of 121-92 with a 3.98 ERA.

"I'm proud of my career," Morris said. "I didn't mean or want for it to end this way, but I always said the other team will let you know when you're done, and with the outings I've had, some of the fan appreciation has not been so great. But it's all part of it and it's time to move on."

The Pirates recalled right-hander John Van Benschoten from Triple-A Indianapolis to replace Morris on the roster. Van Benschoten was 4-0 with a 1.88 ERA. He will work out of the bullpen in long relief.

Lefty Phil Dumatrait will take Morris' spot in the rotation. Dumatrait is 0-1 this season with a 4.32 ERA.

The decision to release Morris means the Pirates will eat $11,037,283 in salary, including a $1 million buyout for 2009.
Sean Burnett continues to sit and stew in Indianapolis. 28 year old Van Benschoten may be on audition for Dumatrait's spot on the staff. Another righty would help balance the rotation. Then again, he may just be insurance in case Dumatrait doesn't work out or simply be the freshest arm available from Indy.
More importantly, the suits have finally delivered a message to the troops that a big league contract doesn't guarantee a big league job - only a big league performance will do that. And it's a message that's long overdue.