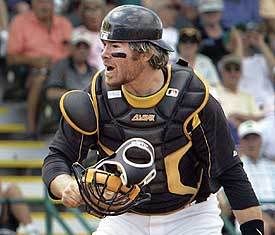 Ryan Doumit from Pirates.com
(photo by Keith Stakocic, AP)
The team lost starting catcher Ryan Doumit indefinitely last night to a thumb injury.
On the 15th pitch of Redbird game, a fastball from Phil Dumatrait hit Doumit's glove awkwardly and fractured his left thumb, ricocheting away for a passed ball. It seemed to be the result of crossed wires between the pitcher and catcher.
Doumit, flashing several signs because there was a runner on second, called for a slider and set up down and in, but Dumatrait instead let loose with a 93 MPH heater, up and out.
Dumatrait threw one more pitch to Doumit before the inning ended. After an exam by the Pirates' doctors, he was determined to have a slight fracture near the top of the left thumb.
Doumit will return to Pittsburgh today to have his thumb re-evaluated. He's headed to the 15-day DL no matter what they find, but the million dollar question is for how long. It's estimated that it will be 2-3 weeks if nothing worse turns up. (EDIT - the doc said a month minimum for it to heal. So much for John Russell as a diagnostician.)
Ronny Paulino will start while Doumit's gone. The Pirates plan to call up a another catcher today, probably one of AAA Indianapolis' two backstops, Michel Hernandez or Raul Chavez, to serve as Paulino's caddy. (EDIT - it's Chavez.)
Hernandez, 29, hit .312 with a home run and 7 RBIs while Chavez, 35, batted .306 with 3 HRs and 13 RBIs at Indy. Hernandez has a better OBP, Chavez the better slugging percentage. They shared the duties behind the dish and both played well defensively in the spring for the big team and at Indy.
Doumit had settled into the cleanup spot, hitting .350 with 5 HRs and 15 RBIs in 103 at-bats.