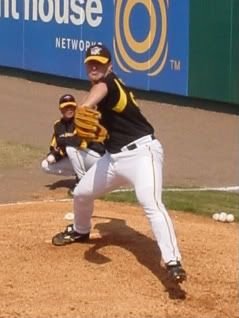 Matt Capps from Wikipedia
(photo by B. Cheuvrant)
The Giants were probably thankful that yesterday was get-away day from PNC after dropping their third in a row to the Bucs, 5-4.
Paul Maholm and Matt Cain didn't exactly light it up in a duel of promising youngsters. The Pirates jumped ahead 2-0 in the third inning on Ryan Doumit's two run single, but the G-Men plated four in the top of the fourth.
They were helped by a couple of hits that shouldn't have been, a single off Maholm's glove and a two out, two run double that Nate McLouth broke the wrong way on, his second misplayed hit of the Giant series.
All the runs scored with two away, and it's possible none would have come in if Maholm would have fielded his position.
The Bucs rallied for the lead in the seventh, thanks to a couple of breaks. First, Bruce Bochy pulled a John Russell and kept Cain on the hill an inning too long.
The action started when Nyjer Morgan, in his next-to-last at bat as a Pirate, bunted for a base hit. Replays showed the ball beating him to the bag, but hey, hehe.
Freddie Sanchez, McLouth, and Jay Bay combined to tie the game from there. With two gone, Xavier Nady was intentionally walked to get to Adam LaRoche (hey, someone tell the Giants it's May!)
Then break number two - a wild pitch put runners at second and third, and LaRoche lined one into right for the go ahead run.
One last bit of drama. With two out and two on in the eighth, Jose Bautista speared a one hop shot up the line, saving Tyler Yate's bacon, and Matt Capps put the Giants to bed in the ninth for his 8th save, hitting 93MPH on the radar gun.
Geez, can we invite the Giants back to town every homestand?
On the Pirate front:
Nyjer Morgan, as expected, was assigned to Indy after the game. The surprise was that Kevin Thompson, who was tearing it up, didn't make the trip to Pittsburgh.
He's nursing a sore wrist. It can't be all that sore, though, as he's rolling along on a 14-game hitting streak. But Jason Michaels is a favorite of Russell & Gary Varsho from their Philly days and Huntington knew him from Cleveland, so Thompson losses out in the deal.
The Bucs dealt with Cleveland to get the veteran OF'er Michaels for cash and a player to be named later. He hit .207 with nine hits in 57 at-bats for the Indians and has played parts of the last eight seasons in the majors. A decent corner outfielder, he can also spell McLouth in center in a pinch.
The 32-year-old had been a platoon player with the Indians since last season. This year, he had started primarily against left-handed pitchers, making 11 starts in left and five in right. He is a lifetime .277 hitter.
Freddie Sanchez has seven hits since moving to the top of the order. Looks like a good move on Russell's part.
On the minors front:
The Pirates also signed starter Juan Mateo, 25 years old, who spent part of 2006 in the Chicago Cubs' rotation, to a minor-league contract. The big righty refused an assignment to the Cub's Class A Daytona squad and became a free agent last week.
He was on the DL for a good part of last year with right shoulder woes. Mateo pitched for AAA Iowa and AA Tennessee this season, combining to go 1-0 with a 16.20 ERA (15 ER/8.1 IP) in six relief appearances.
We assume he'll end up starting in Altoona, but there's no word regarding his assignment yet.
Dustin Molleken was pitching a no-hitter through six innings Thursday night and nobody in the ballpark even knew it. Molleken struck out seven over six innings as the Class A Hickory Crawdads topped the Savannah Sand Gnats, 5-2.
A second-inning single was changed to an error after the game ended. Molleken didn't get a chance to finish due to a one-hour and 26-minute lightning delay.
He had TJ surgery in 2004, pitched relief the last two years, and is being converted back to a starting pitcher by the new regime.