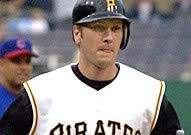 Jason Bay from Pirates.com
Sunshine, blue skies, please go away...hey, who knew the Bucs were mudders? Keyed by a Jay Bay pinch hit blast into the bullpen and another Jason Isringhausen implosion, the Pirates started slowly but eventually built up a head of steam and took the rubber match from St. Louis today, 11-5, in the drizzle and rain.
Ian Snell was rocked again, giving up 5 runs on 11 hits in just 4 innings of work. But Frankie Osaria, Sean Burnett, John Grabow, Damaso Marte and the Mad Capper shut out the Redbirds over the final five. Grabow did yeoman's work pitching out a jam inherited from Burnett and notched his third win for his effort.
There were heroes galore. Nate McLouth and Bay went yard, and Ronny Paulino, Doug Mientkiewicz, and Chris Gomez collectively batted 8-13 and scored eight times from the 6-7-8 spots. Jason Michaels chipped in with a pair of RBIs.
Good thing, too, since Adam LaRoche and the X-Man had a horse collar hung on them in the middle of the order, going 0-9. LaRoche is down to an April-ish .197 average.
Tony LaRusso watched his team strand 14 more runners - that's 29 left on base in the past two games - and his bullpen get smacked around some more. He may have to give up his title as "MLB's Most Brilliant Manager" if this keeps up, hehe.
Did you notice that his pitcher, batting eighth, stranded 5 runners last night? Maybe that's one reason why so many Cards are left standing on the sacks after every inning.
Our only question - why didn't John Russell give Freddie Sanchez the day off? It was a chilly 55 degrees and raining after a night game, surely not the best situation for the gimpy armed second sacker.
If the Bucs continue to be efficient with their attack, and if the staff can pitch to their PNC standards (3.71 ERA at home, 6.17 on the road), well, it could be interesting for awhile.
We'll see soon enough - the Pirates are off to Wrigley to meet the Cubs that have handled Pittsburgh like a red-haired step child so far this year. If the Bucs want to hang around the Central race a while longer, that's the team they have to beat.
On the minor league front:
The Bucs sent Evan Meek and newly acquired Juan Mateo to AA Altoona. The Curve staff has been short of arms with three pitchers on the DL (Ron Belisario, Pat Bresnehan, and Derek Hankins) and now they're back to a standing room only compliment of 13 hurlers.