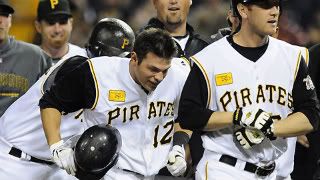 Freddie takes a bow from Pirates.com
(photo by John Heller, AP)
Hey, for a change it wasn't the X-Man, Nate the Great or Ryan Doumit riding to the rescue - it was bantomweight Freddie Sanchez collecting two more hits at the top of the order and driving in all three Bucco runs who was tonight's hero.
What else would you call the guy that finished the game with a two out, game winning single in the ninth? And the other two RBI's came on a bases loaded double - with 2 outs. Pretty clutch hitting for the Buc's second sacker, no?
Oh, and he started one double play in the sixth and turned another in the ninth. Both were timely team-ups with Brian Bixler, and snuffed out potential game breaking innings by Atlanta. Sanchez played about as well this evening at PNC as his Penguin compadre Geno Malkin did in the Mellon Arena.
And if you're keeping score, that's nine hits in four games since he was moved to the lead off spot (9-17, .529).
Let's also give lotsa love to Ian Snell, who despite six walks hung around for seven innings and didn't allow Tom Glavine's strong outing to bury the Bucs in an early grave. The Braves only had two hits off him, and he K'd five. Snell kept Pittsburgh in the game and when he left, Pittsburgh was up 2-1.
Snell is doing a nice job of learning how to manage a game with runners aboard. His opponent batting average of .143 with RISP is the best in the NL from 2007 to today.
The only bummer was the work of set-up men Damaso Marte and Tyler Yates, who together gave up four hits, a walk, and a run while only getting three outs. Tonight John Grabow came in and got the win with a punchout and DP ball to keep the Braves off the board in the ninth inning.
The innings may be beginning to take a toll on their arms. It's tough when you have to roll out the same three or four guys every night. Of course, winning four in a row is a pretty nice trade off.
The Braves had a six game winning streak snapped tonight. It looks like this series will be much more interesting and certainly better played than the first one of the year. We'll see tomorrow.

On the Pirate front:
Damaso Marte had his streak of 22 consecutive outs broken by Mark Teixiera, who singled off him in the eighth.
Tyler Yates got the first blown save credited to a Pirate in 2008 when he couldn't hold the Buc's one run lead in the eighth inning.
New Bucco Jason Michaels struck out with the bases loaded in the seventh while pinch hitting for Snell, but Sanchez picked him up by coming through with a double at the next at-bat.
For those of you worried about Xavier Nady's wheels, don't be too alarmed. He says he's been playing since the spring with a minor groin tweak (not his troublesome hammy) and it's no big thing. Though he was taken out Thursday, his hustling double to start of the seventh inning tonight should put any concerns to rest.
Houston's Lance Berkman reclaimed the NL RBI lead with a two-run homer off LA's Derrick Lowe. He's ahead of Nady 35-34 as of today in the RBI race. Berkman is in the midst of an unreal hitting streak, batting 16-20 in his past 5 games with five walks.
Going into Friday, Pirates Jason Bay, Nate McLouth and Xavier Nady had combined to lead the majors in homers (20), batting average (.311), slugging percentage (.541) and on-base percentage (.400) as an outfield trio.