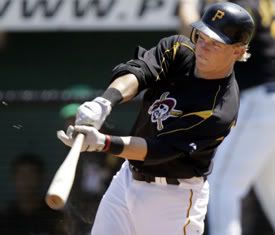 Nate McLouth from Pirates.com
(photo by Keith Srakocic, AP)
No one said it would be easy, but the Bucs finally got the Cub monkey off their backs today 7-6. But someone needs to hose down Alfonso Soriano with some very cold water and soon, because he's on fire right now.
He was 5-5 with two more long balls, a double, and added three RBIs and three runs scored, collecting extra-base hits off of three of today's four Buc hurlers. Soriano has 20 hits in his last 37 at-bats (.541) with seven homers, four doubles and 15 RBIs, raising his average to .295 after a brutal start to the campaign.
Damaso Marte, who got the win, was lucky enough to miss facing him in the eighth inning.
It took a Pirate three-of-a-kind to trump Chicago's ace.
Pittsburgh upped the ante with Freddie Sanchez, Nate McLouth, and Adam LaRoche. Together, they collected eight hits, including a homer, two doubles and four RBIs along with five runs scored to offset the Cubby wild card, Soriano.
McLouth's two run shot that just nestled into the right field netting in the ninth brought home the win, set up by a hustling infield hit by Sanchez. Pity poor Carlos Marmol (1-1). He's allowed just two homers this season, both by McLouth.
The Bucs almost iced it in the fifth inning. Starter Carlos Zambrano was so frustrated by his strikeout while batting in the fourth that he snapped a bat over his leg. Ouch. And that may have been the key to getting to him with the next at-bats.
The Pirates got their first five runners aboard and had the bases juiced with no one out and two runs already in against the flustered and perhaps hobbled Zambrano. Mike Wuertz came on, and Xavier Nady lifted a medium foul fly to right to bring another run home and set up runners on the corners.
Doug Meintkiewicz, starting at third base again, blistered a shot up the line. Derrek Lee, playing in front of the runner, squeezed it and doubled up LaRoche on first. If the ball got past him and into the corner, Pittsburgh would be on the road to a potentially huge, Soriano-proof, inning. But at least it didn't come back to bite them.
Duke again kept the Pirates in the game with another adequate effort, going 6-1/3 and giving up four runs. The bullpen carried Pittsburgh the rest of the way, although staggered by an Alfonso homer and two-out, ninth inning double that led to the Cubs' final run and a few new gray hairs on John Russell's head.
Phil Dumatrait (1-1, 3.96 ERA) takes on Jason Marquis, a free agent bust so far this season for the Windy City nine (1-3, 5.26 ERA) in the series clincher tomorrow.
On the Pirate front:
Though Russell put Mientkiewicz in the lineup at third base for the third straight day, the manager maintains that he is not yet looking at a platoon situation with him and Jose Bautista playing out in the near future. Maybe he should.
Both infielders' season and career numbers favor a long look at platooning. Bautista has hit right-handed pitching at a .204 mark this season (.229 overall), while Mientkiewicz has a .264 average off right-handers in 2008 (.271 career).
The difference is even more striking against lefties. Mientkiewicz's .100 average against southpaws this season (.265 lifetime) is dwarfed by Bautista's .294 mark this year (.262 career).
Jack Wilson went 2 for 2 with a double and an RBI in his second rehab game at Indy. He played six innings and fielded three balls. He should be ready to return to the bigs late next week if all continues to go well.
Indy's off Monday, and it's unknown whether he'll stay put, visit the docs, or go to Altoona to get an extra game in.
Nady made a great diving catch near the right-field warning track to rob pinch hitter Ronny Cedeno leading off the seventh inning. The grab was good enough to make
ESPN's
Top Ten Plays of the Day segment.
Equally as nice was Ronny Paulino's block of home and tag on Geovany Soto in the third to end the inning and keep the Cubs off the board. It ended up being a big run.
It looks like that extra work with Manny Sanguillen and the other coaches on plays at the plate in the spring is paying dividends now. The questions about Paulino's heart have been put to rest so far this season.

On the minor league front:
RHP Brad Lincoln, 23, will be making his first start since 2006 tomorrow when he takes the mound for the Class A Lynchburg Hillcats. Lincoln, who had TJ surgery on his right elbow in April of 2007, will climb the hill after back-to-back 80-pitch outings in extended spring training.
He was selected by the Pirates as the fourth overall pick in 2006 out of the University of Houston. (Lincoln went 12-2 with a 1.69 ERA and 152 strikeouts in 127 2/3 innings while walking 32 at UH. A two-way player, he also hit .295/.368/.536 with 14 HR as a 1B/DH for the Cougars. He came out of school as a junior.)
Lincoln went from college to the GCL rookie league to Class A Hickory that season, where he went 1-2 with a 6.75 ERA and 10 strikeouts. Some baseball people believe that the 160 inning workload that year may have led to his elbow problems.