Catcher's mask image from USCSPC
We may have run on some tough times as Pittsburgh baseball fans lately, but one sweet thing we have lived through is the golden age of Pirate catchers. Manny Sanguillen, Tony Pena, and Jason Kendall are at the head of the Bucco list in backstop stats (and no, I'm not willing to throw in any of the platooned Spanky/Slaught, Ott/Dyer or Burgess/Smith tagteams into the mix, though they were pretty solid pairings.)
Sanguillen can rightfully be called the first great Pirate catcher. The good natured Panamanian with the wide smile came to Pittsburgh in 1967. Except for a season in Oakland, when he was the bait for us to get Chuck Tanner in 1978, he was with us through the 1980 season. The Bucs sent Miguel Delone, Mike Edwards and Elias Sosa to the A's to get him back.
Sangy was around for five pennant winners and earned two Series crowns during that time, and was elected to three All-Star berths, which wasn't easy in the Johnny Bench era. He was behind the dish for over 1,000 games while in Pittsburgh. For a while, he was even appointed the successor to the great Roberto Clemente in right field, although sanity was quickly restored and Manny once again strapped on the tools of ignorance.
He left after 1980 for good, traded with Bert Blyleven to the Cleveland Indians for Gary Alexander, Victor Cruz, Rafael Vasquez, and Bob Owchinko. And you thought Littlefield was the only one that made lousy deals? Actually, Sanguillen was at the end of the line and retired as an active player after 1981, but Blyleven threw that hellacious curve for another dozen years and won 140+ more games. Oh well.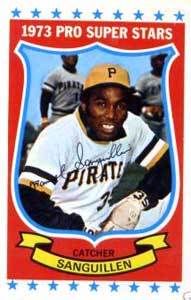 Manny Sanguillen from Baseball Almanac
Tony Pena followed in 1980. He caught 800 games for Pittsburgh, made the All-Star squad four times and earned another four Golden Gloves. Pena's unorthodox catching stance, with his leg stuck straight out, might have looked funny, but no one caught a ball as well as he did. His fielding range matrix is out of sight - it was 12% higher than the league average.
Pittsburgh sent Pena to the Cards after the 1986 season for Andy Van Slyke, Mike LaValliere, and Mike Dunne, so the Pirates got a very nice return on him when they dealt him. Pena managed KC for 4 seasons and today is the first base coach for the Yankees.

Tony Pena and Junior from MLB News
Jason Kendall, one of the few bright spots of recent Pirate history, joined the show in 1996. He hustled his way into three All-Star appearances and with Brian Giles gave us at least a couple of guys that could put the ball in play. Kendall has been behind the plate more times than any other Bucco - 1,205 games.
He was shipped to Oakland to save the McClatchy clan a few bucks for Mark Redman and Arthur Rhodes after the 2004 season. Now he's back to haunt us, signing with the Brew Crew as a free agent this year.

Jason Kendall from Kendall Web Ring
There's one other name to throw into the pot too - Josh Gibson. The black Sultan of Swat played 17 years for the Homestead Grays and Pittsburgh Crawfords. It's said he hit over 800 HR's in all play, but that includes exhibitions, three different leagues (Negro majors, Cuban, and Mexican) and against any nine that his gang could barnstorm against.
His glovework was supposed to be just so-so, although his arm was allegedly a rifle, but we don't have any stats to prove or disprove his fielding ability. He only caught 500 games officially because the Negro National League, where his stats came from, usually only scheduled 40-50 games per year. They had to leave the teams enough open dates to book exhibitions, their lifeblood financially.
He was born too soon to match his bat against major league pitching, playing from 1930-'46. It was said in the late 1930s that both Pittsburgh and Washington tried him out but were afraid to sign him. The story goes that the Pirates actually did get his name on a contract in 1943, but then commissioner Judge Kenneshaw "Mountain" Landis voided it. In spite of that, Gibson's the only Pittsburgh catcher in the Hall of Fame.
Gibson died in 1947. The doctors said it was from a stroke, but his friends claimed it was from a broken heart brought about because he never got a shot at the majors.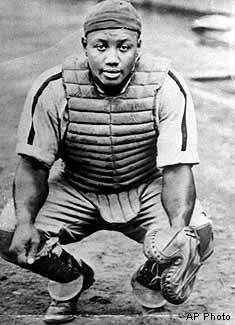 Josh Gibson from MLB

player     avg  obp  slug rs  rbi hr  f-% range

Kendall    .306 .387 .418 706 471 67  .988   7%
Pena       .286 .327 .411 307 340 63  .987  12%
Sanguillen .301 .333 .408 507 509 56  .986   5%
Gibson     .351 .436 .687 467 432 115  n/a  n/a

(The stats are for time in Pittsburgh. Gibson's fielding stats are unavailable. I didn't include the stolen base success rate because Kendall's are fairly complete, Pena's nearly non-existant, and none are available for Sanguillen or Gibson that I could find via my humble Google resources. The fielding range shows the percentage above the league norm. All three of the catchers graded out as superior to the league average during their time in Pittsburgh.)

So who's the best? Well, we'll leave that up to you. Since so many of the factors are subjective, we decided to rate the catchers by poll. Vote early and often on top of the sidebar. It's the American way.