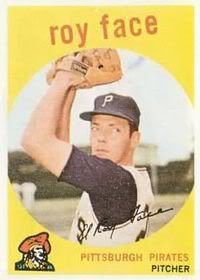 Elroy Face from Wikipedia
Elroy Leon Face was born on Monday, February 20, 1928, in Stephentown, New York. The diminutive righty (he was only 5'8") was originally signed by the Philadelphia Phillies as an amateur free agent in 1949. Face was then twice drafted by Branch Rickey, first for the Brooklyn Dodgers before the 1951 season and again in 1952 for Pittsburgh. Rickey knew greatness when he saw it.
Face was 25 years old when he broke into the big leagues on April 16, 1953 with Pittsburgh. He started to come into his own in 1956 when he set a modern Pirate's record for appearances (68), leading the league in games and breaking the club mark of 59 set by Bill Werle in 1951.
In 1957 he saved 10 games, reaching double figures for the first time. The team finished in second place in 1958, the first time in his career that they finished above seventh. Face led the NL with 20 saves and an ERA of 2.89 that year. Danny Murtaugh, an innovator at orchestrating a team, had his finisher.
His special season came in 1959, when he posted an 18-1 record, including 17 victories in a row to begin the year (actually, the streak was 22 - he won his last five games in 1958.) Charlie Neal of the pennant winning Dodgers did him in on September 11th, driving in the winning run of a 5-4 LA victory.
He didn't yield a run during a span that stretched from June 11 to July 12. Face was named the Player of the Month for June after posting a 5-0 record with four saves and a 0.38 ERA. He ended the year with an ERA of 2.70 and finished eighth in the MVP race.
His 18 relief wins remains the major league record. That was the era of the come from behind Bucs, and in fact the 1960 Pirates won 28 games that they were losing after 6 innings. Some people suggested, half facetiously, that Face would give up the tying run because he was so confident that his team would rally to get him the win. His response is that he wished he were that good to plan it that way. Face's 18-1, .947 winning percentage set yet another MLB record.
Face got an added side benefit from his win streak, too. He would park at a gas station near Forbes Field for a buck per day before games (hey, parking was tough in Oakland!) Early in the 1959 season, after Face had won a handful of games without a loss, the lot owner told him he could park for free until he lost. He didn't have to pay for parking again until September.
In 1960 he had his second 20 save season, closing out two dozen Bucco victories. Helping the Pirates to their first pennant since 1927, Face led the league in games once again, tying his own team record of 68. The mark would stand until teammate Pete Mikkelsen appeared in 71 games in 1966.
In the 1960 World Series against the New York Yankees, Face was swatted around a bit by the Bronx Bombers but still became the first pitcher to save three games in a single Series. That record has since been matched by Kent Tekulve, Mariano Rivera, and Troy Percival. John Wetteland, the spoilsport, saved four.
Selected to the All-Star squad from 1959-61, Face again led the NL with 17 saves in 1961. In 1962 he broke Lindy McDaniel's NL record with a career-high 28 saves (one short of Luis Arroyo's then major league mark set the previous year) while posting a 1.88 ERA. That record would last until 1965 when Ted Abernathy would set a new standard with 31 saves. Face had three 20-save seasons at a time when no other pitcher had more than one.
Also in 1962, Face passed Clem Labine to take over the NL record with 95 career saves, and then broke Johnny Murphy's major league mark of 107. In 1963 he earned 16 saves.
The magic left his arm during the next two seasons. He picked up just 4 saves in 1964 with an ERA over 5.00 and recorded no saves in 1965 although halving his ERA. In 1964, Hoyt Wilhelm took the major league career saves record from him.
But Face returned to form to save 18 games in 1966 and 17 more in 1967, finishing second in the NL both years. In 1967 he passed Warren Spahn's mark of 750 games pitched to become the NL's all-time leader in appearances. His record would stand until Tekulve moved ahead of him in 1986. Teke ended his career with 1,013 games to Face's 802 in a Pirate uniform.
A pioneer of modern relief pitching, he was the archetype of a closer. Face was the National League's greatest reliever of the sixties and it would take another decade or more beyond that to break the several league records he established during his career.
He and Wilhelm defined the closer's role for future generations of game icing specialists. Both had an unflappable mentality and an unhittable pitch - Face the forkball, Wilhelm the knuckler. And both worked as a combo set-up man and closer, often coming in to finish a game in the 7th or 8th inning. These guys were no one inning wonders.
He held the NL record for career games pitched (846) from 1967 to 1986 and the league record for career saves (193) from 1962 to 1982. Face still holds the NL record for career wins in relief with 96, and is fifth all-time. He held the league mark for career innings pitched in relief (1,211⅓) until 1983. Face was one of the ten best relievers of all time according to
The Relief Pitcher
, being recognized as the most dominant fireman of his era.
He achieved his success almost exclusively with the forkball, which he had learned from Yankee's reliever Joe Page. Today it's called the splitter. Face described it its' movement thus: "It would come in hard and break anyway it wanted to, sometimes in, sometimes out, mostly down."
But don't think he didn't know where it was going. Face would throw his bread and butter pitch no matter what the count or situation. That's how much confidence he had in his forkball.
Face prided himself on his pick-off move almost as much as his forkball. He recalled one game in Cincinnati where he inherited a jam with runners on 1st and 2nd and nobody out. Face picked off the Red at second and then picked off the other at first before ever throwing a pitch to the batter. Talk about squelching a rally!
He ranked third in major league history in pitching appearances, behind only Hoyt Wilhelm and Cy Young and second in saves behind Wilhelm when he hung his spikes up for the last time in 1969 as a member of the Expos (he was a Tiger briefly before that.)
Face still holds the Pirate's franchise record for career saves with 188 and for games finished, 547. He won 104 games with a 3.48 ERA during his 16 year career. Face was selected to play in six All-Star games and has a World Series ring on his finger.
After he retired from baseball, Face traded in his forkball for a toolbox and became a carpenter. He lives in North Versailles and now that his working days are behind him, he can be spotted around town anywhere there's a golf outing.
The Baron of the Bullpen is now the Baron of Birdies.