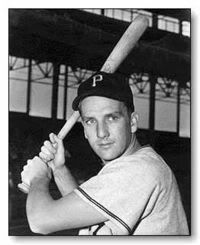 Ralph Kiner from Wikipedia
Signed by the Pirates for an $8,000 bonus in 1941, Ralph Kiner hit 27 home runs in two minor league seasons before the war. Following a stint in the military service, he became Pittsburgh's starting left fielder in 1946. Despite starting slowly, Kiner hit 23 homers to lead the NL and became the Pirates' first home run champion since 1906.
In 1947 he hit 51 home runs. Not a bad start, hey? Many of Kiner's homers were hit into a short left field porch at Forbes Field, first doctored up for Hank Greenberg and dubbed "Greenberg Gardens". It quickly became "Kiner's Korner". Kiner would later use that name as the title of his post-game TV show in New York.
In 1949 Kiner topped his 1947 total with 54 home runs, falling just two short of Hack Wilson's then NL record. His string of league leading home runs reached seven in 1952, when he popped 37 dingers. It also marked a record six consecutive seasons in which he led MLB in home runs.
Home attendance rose to its highest level since the pennant year of 1927 even though the team was near the bottom of the NL pack just because of him. Fans would stay in the stands until Kiner took his final at-bat and then stampede for the exits. More than five million fans paid to watch horrid Pirate teams from 1947 to 1950 thanks largely to Kiner's charisma.
He was selected to the All-Star team six straight years, from 1948 to 1953. Kiner holds the major league record of 8 home runs hit in four consecutive multi-homer games, set in September, 1947. He was
The Sporting News
Player of the Year in 1950. Hey, Kiner's Korner or no, the dude could ship a baseball a long way.
On June 4, 1953, Kiner was sent to the Chicago Cubs as part of a ten player trade. He was shipped with Joe Garagiola, Catfish Metkovich, and Howie Pollet to the Cubbies for Toby Atwell, Bob Schultz, Preston Ward, George Freese, Bob Addis, Gene Hermanski, and $150,000 (the salary dump was a Pirate tradition even back in the day.) Pirate GM Branch Rickey famously told Kiner, "We finished last with you, we can finish last without you."
He played the rest of the 1953 season and all of 1954 with the Cubs, and finished his career with the Cleveland Indians in 1955 when a back injury forced him out of baseball at age 33. During his ten year career, Kiner mashed 369 home runs and drove in 1,015 RBIs to go with a career .279 batting average.
His lifetime ratio of homers to at-bats (14.1) was exceeded only by Babe Ruth. His slugging prowess was immortalized on the silver screen when Kiner was shown hitting a homer in Forbes Field in the 1952 movie "Angels In The Outfield."
In 1961, Kiner stepped into the broadcast booth with the Chicago White Sox. The next year, Kiner, along with Lindsey Nelson and Bob Murphy, started announcing the games of the expansion New York Mets on WOR-TV in New York. His traditional home-run call -- "that ball is gone, goodbye" -- is a signature phrase in baseball. He's still an occasional analyst on NY's Sports Net channel.
Kiner was inducted into the Baseball Hall of Fame in 1975, and the New York Mets Hall of Fame in 1984. The Pirates retired his #4 in 1987.
The Sporting News
placed him at number 90 on its 1999 list of "The 100 Greatest Baseball Players," and he was one of the 100 finalists for the Major League Baseball All-Century Team that same year. The Mets honored him with a "Ralph Kiner Night" at Shea Stadium.
"Home run hitters drive Cadillacs and singles hitters drive Fords"
said Ralph Kiner. So true, so true.