OK, part two of the no hit games, from 1970 on:
June 12, 1970: Dock Ellis vs. the San Diego Padres at San Diego Stadium; score 2-0. He was throwing the ball all over the place - he walked 8 and hit 1. Ellis explained that he pitched a no hitter because his ball had so much movement that day. But in his autobiography,
Dock Ellis in the Country of Baseball
, Ellis claimed that he pitched his no-hitter while under the influence of LSD. Only the flamboyant Dock knows for sure. He got all the runs he needed compliments of two Willie Stargell blasts.
Ellis went on to play for the New York Mets, New York Yankees, Oakland Athletics, and Texas Rangers, ending his career back in Pittsburgh. He finished with a lifetime record of 138-119 and an ERA of 3.46, and won 4 NLCS games and a World Series game for Pittsburgh during his dozen years in the big leagues. He retired to Victorville, California in 1980 and a started a second career as a drug counselor. What goes around...

Dock Ellis from Baseball Almanac
August 9, 1976: John Candelaria vs. the Los Angeles Dodgers at TRS; score 2-0. The Candy Man got out of a bases loaded jam in the 3rd inning to preserve his no-no and shutout. He walked but one batter, although the Bucs booted a couple of balls behind him. He struck out 8 and was in complete control of the boys from LaLa land.
The 6'7" 205 lb. lefty helped Pittsburgh win the NL East as a rookie in 1975 and set a NLCS record with 14 strikeouts in Game 3. In 1977 he became the first NL pitcher since Sandy Koufax in 1965 to win 20 games while having the top ERA (2.34) and winning percentage (.800, 20-5). He was Pirate's first 20-game winner since Vern Law in 1960 and their first lefthander to win 20 since Wilbur Cooper in 1924. He led the 1979 World Championship squad with 14 wins and pitched shutout ball in the crucial sixth game of the World Series.
Considered one of baseball's best money pitchers, Candelaria's toughest opponent was injury. From 1975 to 1988, he had only one losing season. But plagued by chronic back problems, he was playing hurt in 1981 and again from 1987-'89 spending considerable time on the DL. Candelaria responded by developing into an effective reliever for the final years of his career.
In his 19 years in the show, Candelaria had a 177-122 record with a 3.33 ERA pitching for 8 teams. Oddly, his only All-Star year was the monster season of 1977.
Another oddity was that the Candy Man ended up a Pirate instead of a Knick. Candelaria was a tremendous hooper in his youth. Prior to joining the Pirates, he played center for the Quebradillas Pirates in Puerto Rico. When he announced he was leaving the Quebradillas basketball "Pirates" for the Pittsburgh Pirates many thought he picked the wrong sport.
The local newspaper featured him pitching a basketball in the front page of the sports section. The NYC native had attended La Salle Academy in lower Manhattan and gained fame as a basketball center, leading his team to the high school championship in 1971. But the NBA's loss was MLB - and Pittsburgh's - gain.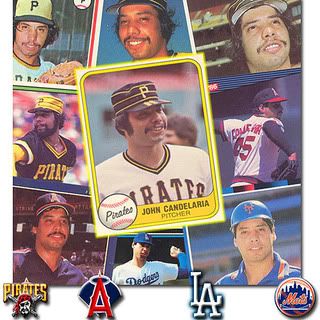 John Candelaria from MLB Shop

Francisco Cordova from Baseball Almanac
July 12, 1997: Francisco Cordova/Ricardo Rincon vs. the Houston Astros at TRS; score 3-0, 10 innings. Cordova pitched 9 innings of no-hit ball (10 K's, 2 BBs, 1 HBP) and Rincon earned the win with a scoreless inning of relief, walking one. Mark Smith hit a 3 run homer with 2 outs in the 10th to seal the deal. A sell-out crowd of 44,119 was on hand for the 50th anniversary of Jackie Robinson's debut and a Zambelli fireworks show. They got more than they bargained for that night, and it was one of the rare sellouts that actually produced a Pirate moment for the fans.
Cordova spent 5 years (1996-2000) with Pittsburgh before arm woes ended his major league career (although he still pitches some in his native Mexico.) His lifetime stats are 42-47 with a 3.96 ERA.
The lefty Rincon may be best remembered as the dude we traded to Cleveland to land Brian Giles. In 10 major league seasons, he had a 21-24 record with 21 saves (18 in his two years with Pittsburgh) and an ERA of 3.58. At last look, he was toiling in the Met's minor league system. He's 48 years old and not a very hot prospect anymore.

Ricardo Rincon from Check Out My Cards
Notice a dearth of no hitters in Pittsburgh? The main culprit was the vast outfield and rockpile infield of Forbes Field. In its' 62 seasons (1909-1970), The Grand Dame of Joncaire Street never yielded a no hit game to any pitcher, Pirate or not. Who came the closest? In June 1968, Pirate rookie Bob Moose went 7 2/3 innings before surrendering a hit to the Houston Astros.