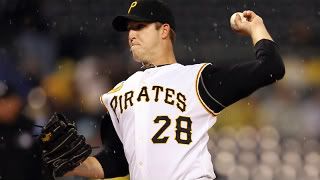 Paul Maholm from Pittsburgh Pirates.com
Paul Maholm - thank God the Bucs didn't use him when he was in the bullpen yesterday - carried the Pirates into the sixth, and John Grabow, Damaso Marte and Matt Capps did the rest, going the last 3-2/3 innings yielding one hit and bringing home the win, 1-0.
It wasn't easy and it wasn't pretty, but for once the Pirates made the pitches when they counted. Pittsburgh started off on a bad note when Maholm botched the first ball of the night, and an inning later Luis Rivas let a throw get through him, too.
But Maholm, who had 12 ground outs in 5-1/3 innings, induced a double play after each error, finally picking up the team instead of folding the Bucco tent. The Reds twice loaded the bases and ended up stranding a dozen, but the Pirate pitchers wouldn't give in.
He scattered 6 hits, walked a couple and beaned one to go with the two miscues, but danced through the raindrops, both literally and figuratively. Maholm didn't get the win - he was yanked after an hour plus rain delay - but hung tough and handed the ball to the terrible trio who nailed down the victory. Grabow got the W, Marte a hold, and Capps notched his 2nd save.
The game's only run came on a sixth inning blast (it went 435') by Jason Bay, who really used those two days off to jumpstart his season. We may have to eat our words about him being a bad fit for the three hole. After an abysmal start, his average is up to .281 with a pair of homers.
Xavier Nady finally got an evening off, pinch hitting in the eighth inning. The X Man had played every inning until tonight for the Bucs. His replacement, Nyjer Morgan, made a leaping catch after a long run to end the game, barely avoiding a head on collision with RF Nate McLouth.
In true CF'er fashion, they both went after the shot by Ken Griffey Jr. into right center aggressively, and McLouth *whew* let the center fielder take it, even though he called it first. Maybe some of the fundamentals are beginning to sink in at long last (or self preservation; both work for us.)
Morgan is still very unpolished - besides running off McLouth, he threw a ball to God only knows in the third inning, a moon shot that landed somewhere in short left field, and got caught stealing when he overslid the bag. We still think he's trade bait, much like Rajai Davis, for a team in love with speed.
McLouth made a sweet grab in the sixth inning, saving the Pirates two runs. Now if the infield will only get with the program...
One glaring and costly weakness that needs addressed is the infield's glovework. The Pirates lead the majors in errors with 16, all made within 90' of home plate. The pitchers have committed 5 of them, Rivas has missed 4 chances, and Jose Bautista has misplayed 3 balls. That's 75% of the miscues. Giving up those extra couple of outs every game doesn't work.
24 year old Edison Volquez looked sharp again for Cincy, giving up just three hits in his 5 innings of work, lowering his early ERA to 0.87. Like Maholm, he left early because of the rain storm, throwing just 75 pitches and getting a bushel load of ground outs. He's got a rep as a power arm, although he didn't show it last night.
But it was the Buc's night, and it was nice to see the Jolly Roger get hoisted for the first time this year at PNC. Finally.
On the MLB front:
Nelson Figueroa, who pitched a bit for the Bucs in 2003-04, won his first game since 2003 after a four year layoff from the bigs when the Mets beat the Brew Crew 4-2 tonight.
He's a real feel good story this season, only making the team after Pedro Martinez went down. He had surgery in 2004 and has floated around the continent playing ball since, looking to land another shot in the show.
Figueroa took a perfect game into the fifth inning, ultimately allowing two runs over six innings. The 33 year old Brooklyn native had a 7-17 record with a 4.68 ERA in his six year career until being called up by his home town Mets, the team that originally drafted him in 1995.
Also, we took a peek at the SF Giants to see how Jose Castillo and Rajai Davis were doing for the G-Men. Castillo has started every game at 3rd, batting .268. He leads the team in at bats so far, with 41. Six of his 11 hits have been doubles, and he has committed 3 errors, the same as Bautista.
Davis is a bench player, carrying Aaron Rowland & Randy Winn's water in center field. He's only gotten 11 AB's in 6 games, and managed one hit for a .091 average. But Davis is 3-3 in the base stealing department.